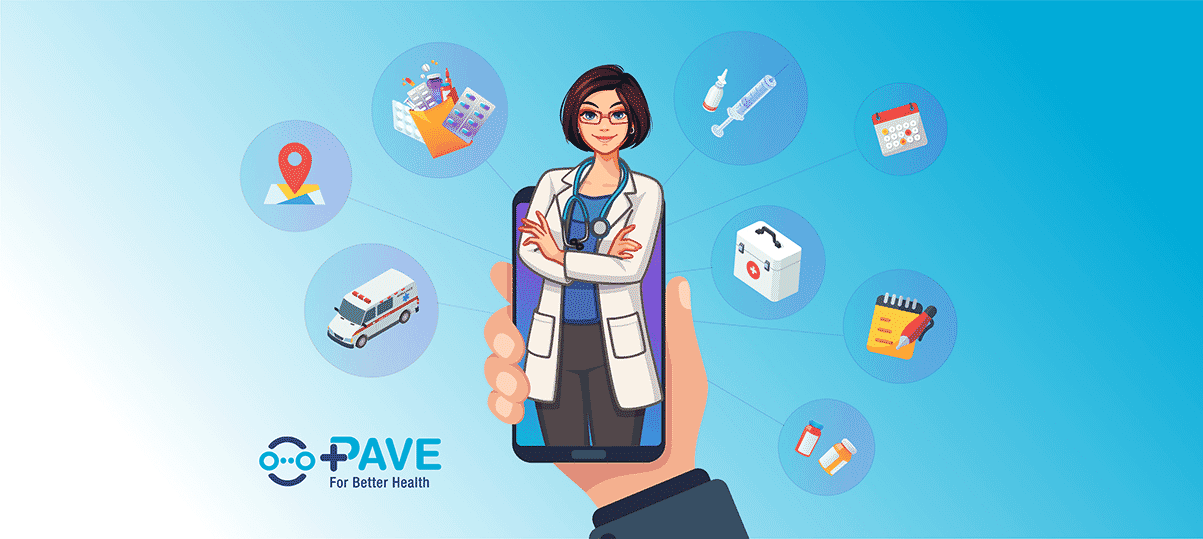 Telehealth systems address a multitude of digital needs, connecting patients and physicians virtually and decentralising healthcare from clinics and hospitals to in situ, community-based and local settings. The advent of technologically advanced ubiquitous systems, the perennially existent need to obtain medical advice remotely and securely, and a raging pandemic that curtails global access to healthcare have enhanced the relevance of telehealth manifold.
A telehealth system, such as PAVE by MedTrix Healthcare, provides 24x7x365 access to healthcare for patients, helps streamline patient volumes and revenue for clinics and hospitals, and integrates various aspects of healthcare in a user-friendly application while ensuring data security through compliance with various country-specific guidelines and localised data storage.
With increasing acceptance and advocacy by governments worldwide and inclusion as a completely/partially reimbursable service by various insurance agencies, telehealth is all set to redefine healthcare systems, thus enabling a paradigm shift from complicated, overburdened and physical models of healthcare institutions to easily accessible, seamlessly integrated and virtually connected networks.
About PAVE
Improving health outcomes by equipping hospitals and clinics with secure telehealth, telemedicine and mobile health systems as well as unified communications integrating voice, video and data.
PAVE is a secure, fast and easy-to-use telehealth application that connects patients and healthcare providers. A complete healthcare system, PAVE is HIPAA and GDPR compliant, and provides a seamless end-to-end experience for both patients and physicians at the touch of a button. With its user-friendly, easily customisable and feature-loaded interface, PAVE has a range of functionalities that can be accessed using any smart device or computer from anywhere in the world.
Advantages of PAVE:
eases access to healthcare in low-penetration systems
helps home-bound and special-needs patients connect with their healthcare providers via audio/video consultation
enables virtual prescription and pharmacy services
offers a wide range of applications for every stakeholder in the healthcare industry, with country-wise customisability and a variety of language options
comes with a pre-loaded chatbot feature that provides 24x7 support and can be modified to include access to a team of experts (paid feature; available during fixed hours)
includes integrated invoicing and third-party payment options, with secure aggregators such as PayPal, VISA and MasterCard
provides a platform for patient education and wellness content as well as therapy-related materials for physicians (including articles, infographics and KOL videos)
can be based on an existing database, such as Veeva CRM, which saves build time and ensures safe and reliable usage
PAVE for Patients
PAVE is a comprehensive telehealth application that offers complete health services under one roof. From scheduling, editing and deleting appointments to audio/video-based consultations, ordering medications via e-pharmacy to setting reminders for taking medications on time, and from storing prescriptions and health records on the app to securely sharing updated health-related data with your healthcare provider, PAVE is the digital solution for all your healthcare needs.
Features
E-Consult: Connect with a physician virtually, via any smart device, from anywhere at your convenience
Appointment scheduler: Schedule, edit, delete and set appointment reminders with PAVE
Educational materials: Access relevant articles, wellness and therapy-specific videos and much more on the app
Medication reminder and self-health reporting: Set medication reminders, store health records and upload prescriptions on the app.
E-Pharmacy: Visit country-specific online portals and get medicines delivered to you, with the option of online payment facilitated by third-party payment gateways.
Dedicated chatbot and team of experts: Avail user support anytime via the integrated chatbot or talk to a team of experts (during specified hours)
PAVE for HCPs
PAVE offers a complete set of patient-related services from appointments, video consultation and e-prescription services to accessing shared eHRs and patient-reported outcomes on the app and post-consultation monitoring. With PAVE, connecting with patients virtually is easy and safe. The app gives you the flexibility to offer consultations via any smart device or computer from anywhere and at any time, ensuring flexible working schedules and the opportunity to earn additional income during free time.
Features
E-Consult: Stay connected with patients virtually through any smart device with the integrated audio video consultation feature
Appointment scheduler: Accept/reject appointment requests and receive reminders about upcoming appointments
Educational materials: Access videos from renowned KOLs and practice- and therapy-related articles, research and more using the app
E-Prescription: Generate and send digital prescriptions and review past prescriptions with PAVE
Post-consultation monitoring: View shared patient data (uploaded by the patient using the self-health reporting feature), such as vitals, medication adherence and much more on the app
PAVE for Clinics and Hospitals: The virtual hub for physicians and patients
PAVE, a telehealth system custom-designed for clinics and hospitals, is an efficient tool that enables remote and secure patient-physician interaction, helps schedule appointments based on physician availability and streamline patient revenue, facilitates patient record storage and updation, and assists with invoicing, recommendations for testing (optional) as well as call summary notes post e-consultation.
Features
Integrated registration and record upkeep: Easy patient registration, one-step health record access and updation
Trusted third-party payment gateways: Secure online transactions and invoicing facilities with aggregators such as PayPal
Testing recommendations and e-pharmacy services: Option of including recommendations for testing and prescription from compendium or new brands
Summary note post consultation: Creation of post-consultation summary for easy sharing and storage
Telehealth trends and COVID-19
We all know that COVID-19 has overburdened healthcare and healthcare-associated ecosystems worldwide, restricting access to critical-care systems, pushing emergency and nursing care services to the brink, and jeopardising patients with critical ailments or special-care needs and those living in remote locations or dependant on regular treatment at hospitals or clinics. With healthcare systems facing undue stress, governments around the world imposed transportation curbs and lockdowns to stop/impede community transmission of the novel coronavirus.
In these times of uncertainty, while we wait for a semblance of normalcy to return, telehealth/telemedicine is a secure and easy way to access healthcare services virtually – from the confines of your home, at the touch of a button, via any smartphone, tablet or computer.
Experts opine that telehealth is here to stay, pandemic or not, with the industry expected to grow to $56.47 billion at a CAGR of around 19% over 2021-2024. While North America is the leading player in the adoption of telehealth services on a wide scale, emerging markets are expected to be the primary drivers of growth in the long run, given widespread access to relatively cheap internet services, roll-out of 5G services in these markets and increasing adoption of mobile technology.
The integration of AI and healthcare, using virtual assistants, wearables and other technology will make telehealth/telemedicine an integral part of our lives. With telehealth poised to enhance quality of life by improving universal access to healthcare services, combined with increasing acceptance across geographies and demographies, perhaps the next challenge would be to enable favourable regulatory and reimbursement policies or to make it affordable for all.