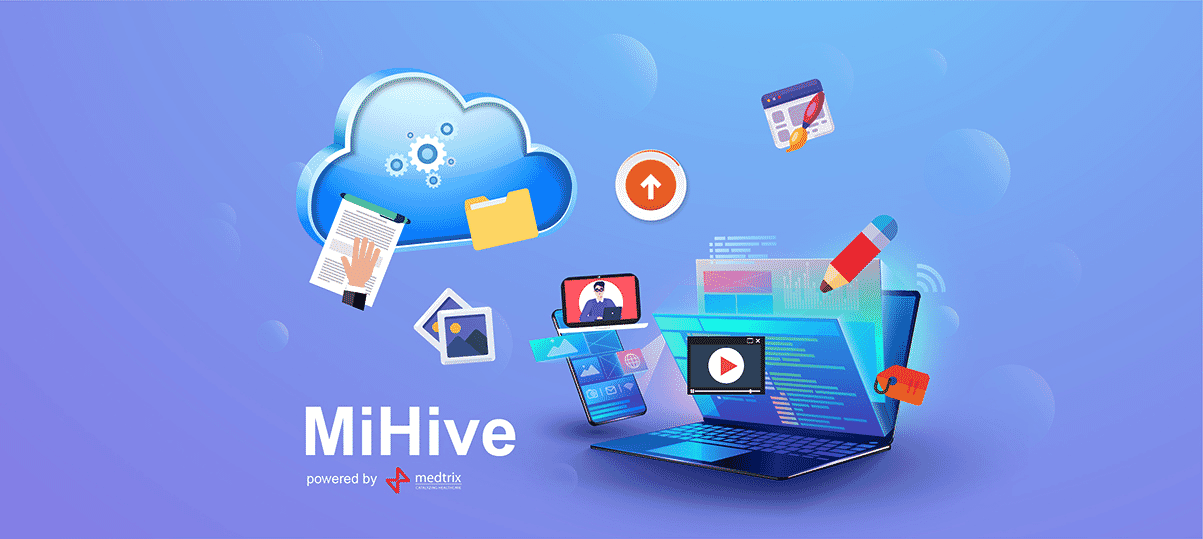 MiHive, by MedTrix Healthcare, is a unique, feature-packed, easy-to-use and readily customisable customer engagement platform. Designed to address the digital needs of pharmaceutical and healthcare firms, MiHive is a multi-brand, multi-therapy platform that consolidates sales, marketing, AI and medical efforts across countries and brands. The platform is built on a Digital Asset Management System (DAMS) framework, based on existing learning and content management frameworks such as CMS-Drupal and CRM-Veeva, which allows upload, edit, tag and management of content within the platform. A core feature that sets MiHive apart is the ability to schedule webcasts and webinars across therapy areas or brands.
The MiHive Advantage:
Quick and easy customisability of content with the DAMS framework:

(Feature 2) Easy customisability, with multichannel content upload, editing and tagging features, which simplifies content management for each type of user
(Feature 3) HCPs can access pre-approved content and features, moderated by Admins, without registering on the platform or being part of a brand

Enables secure and remote access to content:

(Feature 1) Pre-established Admin hierarchy to ensure secure access and control over content accessible to each user type
(Feature 2) Centrally located content, which enables faster access for all stakeholders, across geographies

Webcast and webinar capabilities using the online ticketing platform:

(Feature 1) Set up webcasts and webinars using the online ticketing system, send out invitations and links, and let users know about upcoming events
(Feature 2) Integrated polling, survey and Ask Question features for interaction with participants during or after a virtual meeting
(Feature 3) Live stream to up to 10,000 participants and choose Public or Private webinar settings

Digital engagement made easy:

(Feature 1) Wide range of applications across various verticals, such as remote detailing, online content/idea exchange forums, virtual training support, marketing campaigns, and much more.
(Feature 2) Multimedia Retrieval system that enables quick access to brand assets; Unified Asset Management section, which allows Admins to add, remove and manage content on the platform

Convenient data analysis with the Integrated Analytics Dashboard:

(Feature 1) Admins can access a plethora of usage statistics, including information about most viewed and most downloaded content, viewing and completion times, user ratings and more.
(Feature 2) User data presented in graphical format, sorted by KPI, country and by speciality

Successful implementation with various clients: Customised builds installed for Eli Lilly, Nestle HealthScience, Novartis, Pfizer, PTC Therapeutics and more
Why choose MiHive:
MiHive offers a distinct advantage in terms of versatility and quick customisability. Based on frameworks such as Veeva and Drupal, which are pre-existing LMS and CMS systems used by top pharma companies worldwide, MiHive is a secure, easy-to-use, fully-loaded and data-driven platform.
MiHive can support various content subtypes for such as virtual meetings, webcasts and webinars; email campaigns and e-detailers; promotional and KOL videos; toolkits and materials for HCPs, patients and reps; training and e learning modules; and other brand information. From marketing, training, virtual conferences, detailing presentations and interactive videos to user feedback and usage data, MiHive supports various functions.
With feature-loaded builds, webcast and webinar functionalities, well established security protocols and a wide range of applications that can be supported on the platform, MiHive is the customer engagement tool for all your digital needs.