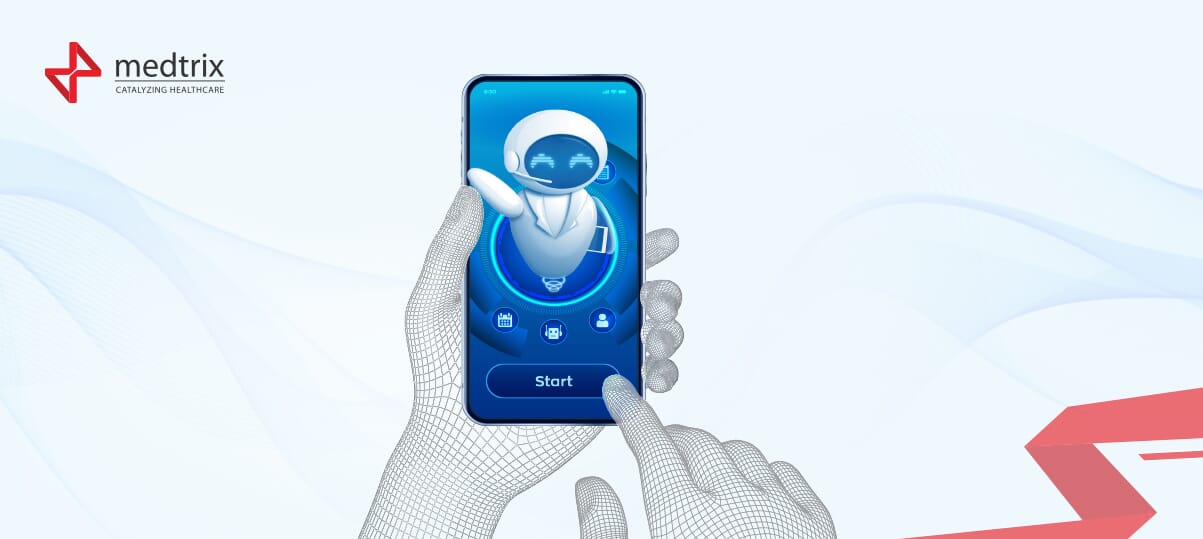 Dietary interventions in CKD: A case for virtualization
Dietary intervention plays an important role in the management of chronic kidney disease (CKD) and is an essential aspect of therapy in several diseases. From improving health-related quality of life to lowering blood pressure and serum cholesterol levels1, dietary interventions have been shown to be effective tools for the management of CKD.
The COVID-19 pandemic has necessitated virtual dietary consultations and, in general, has led to increased adoption of virtual tools to manage healthcare issues. From conversational agents that can support people as virtual coaches to assistants that help create the perfect sandwich, chatbots are everywhere.2
By 2024, Insider Intelligence predicts that consumer retail spend via chatbots worldwide will reach $142 billion—up from $2.8 billion in 2019; by 2023, up to 73% of healthcare admin tasks could be automated by AI and the adoption of chatbots could save the healthcare, banking, and retail sectors $11 billion annually.3
Furthermore, chatbots offer distinct advantages that help improve overall patient experience:
they fare better when it comes to patient self-disclosure4,
they entail huge savings in terms of cost and time taken for responses5, and
they provide reliable, round-the-clock support for various healthcare needs.
With COVID-19 significantly diminishing access to healthcare services for noncommunicable diseases, especially in low- and middle-income countries, and disrupting the availability of non-urgent, facility-based care, such as that required for CKD, chatbots that can meet patients' needs and provide 24x7 support are the need of the hour.6
How AI-enabled chatbots are redefining patient engagement7
According to a new report published by Allied Market Research, the global healthcare chatbots market was valued at $116.9 million in 2018, and is expected to reach $345.3 million by 2026, registering a CAGR of 14.5% from 2019 to 2026.8
The new-age, AI-enabled chatbots are a significant step-up from rule-based chatbots. From using their inbuilt predictive intelligence capabilities that enable faster decision-making and UX customizability to providing access to real-time information by rapidly identifying the purpose and context (intent and entity) of user input, AI-enabled chatbots, such as MedTrix's AI-enabled dietetic assistant, elevate patient engagement to the next level. While rule-based chatbots provide answers to questions based on pre-fed Q&A input, AI-enabled chatbots can answer complex questions comprehensively and engage in sustained conversations.
In essence, AI-enabled chatbots help cut down on waiting time, learn from each interaction and improve with time, and are easy to use and ultra-responsive.
MedTrix's AI-enabled dietetic assistant chatbot: A glimpse of the tech behind the app
MedTrix's interactive chatbot application, which is designed to provide dietary guidance for patients with CKD, seamlessly integrates conversational AI and medication reminder functionalities, and uses a portable device's native texting and voice input features to provide immediate responses. The AI-enabled chatbot leverages natural language understanding and applies predictive intelligence to deliver a hyper-personalized experience for each user. Furthermore, the chatbot is available 24x7 as a virtual assistant to address patients' diet-related questions, which it does by factoring in information such as height, weight, and transplant-related data (if any) that a user provides at the time of registration.
Here's an in-depth look into the AI-enabled dietetic assistant chatbot's features:
The chatbot was developed using Google's Dialogflow platform, which has in-built multichannel integration, conversation management, and a fulfillment interface.9 As a result, the chatbot is user-friendly, can process input and output in both voice and text formats, can provide dynamic responses to diet-related questions, and can be installed on any android- or iOS-based devices post roll-out.
With natural language processing and integrated AI capabilities, the chatbot parses natural language and identifies the intent (the intention/motive of the chatbot user) and entity (a specific modifier in the chatbot's knowledge repository) contained within the user's query, and uses natural language generation (the ability to derive semantic intentions and convert them into natural language) to provide answers in a conversational manner.
The dietetic assistant chatbot incorporates user profile data into every response and learns from every user interaction. During registration, the user can select from six categories, namely potassium information, phosphate information, diabetes and healthy eating information, salt information, fluid information, and calorie information – the chatbot groups users into clusters based on these choices and incorporates these data into every response that it provides. This means that the response for each query is customized depending on the dietary restriction for each user.
Another feature of the chatbot, which contributes to a highly personalized experience, is the ability to select a persona for the dietary assistant. The name and avatar of the dietician can be altered to resemble an in-person experience, wherein a user can choose the dietician they want to consult.
The chatbot's integrated medication reminder functionality helps users add reminders for prescribed medications, with instructions on how and when to take a dose (applicable for phosphate binders and multivitamins). With customizable medication days (everyday, dialysis days, weekly etc.), type of medication (phosphate binders, multivitamins, and custom), or dosing frequency (reminder set-up available for up to five times a day), the app ensures that users do not miss a single dose.
MedTrix's AI-enabled dietetic assistant is fully GDPR-compliant, which means all user data is collected, stored, and processed in accordance with EU laws.
The chatbot is currently in the closed beta-testing phase, wherein a focus group, composed of a select group of dieticians and CKD patients, is evaluating the app.
Epilogue
Management of a chronic illness such as CKD is exhausting, but it can be made easier with healthy habits and proper treatment.10 An important factor in maintaining kidney health and managing underlying conditions associated with CKD is eating a healthy diet. MedTrix's AI-enabled dietetic assistant chatbot can facilitate a progression-free, healthy lifestyle by rapidly resolving CKD patients' diet-related queries and without necessitating frequent visits to dieticians. While consulting a dietician is still necessary for successfully managing CKD, the AI-enabled chatbot can help with answering 80% of FAQs concerning dietary interventions, reduce waiting time by around 95%, help cut down on operational costs by 30% or more, and let dieticians focus on urgent or complex matters, hence directing resources where needed.
References
Palmer SC, Maggo JK, Campbell KL, Craig JC, Johnson DW, Sutanto B, Ruospo M, Tong A, Strippoli GF. Dietary interventions for adults with chronic kidney disease. Cochrane Database Syst Rev. 2017;4(4):CD011998. doi: 10.1002/14651858.CD011998.pub2.
Subway unveils Messenger bot for ordering as it looks to revamp digital. CNBC Website. Available at : https://www.cnbc.com/2017/04/18/subway-unveils-facebook-chatbot-for-ordering-as-it-looks-to-revamp-digital.html. Accessed on 02 March 2021.
Chatbot market in 2021: Stats, trends, and companies in the growing AI chatbot industry. Business Intelligence Website. Available at : https://www.businessinsider.com/chatbot-market-stats-trends?IR=T. Accessed on 02 March 2021.
Gratch J, Lucas G, King A, et al. It's Only a Computer: The Impact of Human-agent Interaction in Clinical Interviews. In Alessio Lomuscio, Paul Scerri, Ana Bazzan, and Michael Huhns (eds.), Proceedings of the 13th International Conference on Autonomous Agents and Multiagent Systems (AAMAS 2014), May 5-9, 2014, Paris, France.
10 Virtual Assistant Statistics Every Freelancer Must Know in 2020. Best of Budgets Website. Available at: https://www.bestofbudgets.com/virtual-assistant-statistics/. Accessed on 02 March 2021.
COVID-19 significantly impacts health services for noncommunicable diseases. Word Health Organization Website. Available at: https://www.who.int/news/item/01-06-2020-covid-19-significantly-impacts-health-services-for-noncommunicable-diseases. Accessed on 02 March 2021.
Sagi Eliyahu. How AI Can Change Customer Experience And Engagement. Forbes Website. Available at: https://www.forbes.com/sites/forbestechcouncil/2020/11/17/how-ai-can-change-customer-experience-and-engagement/?sh=5ab22e2f116f. Accessed on 02 March 2021.
Healthcare Chatbots Market Outlook - 2026. Allied Market Research Website. Available at: https://www.alliedmarketresearch.com/healthcare-chatbots-market. Accessed on 02 March, 2021.
Building and deploying a chatbot by using Dialogflow. Available at: https://cloud.google.com/solutions/building-and-deploying-chatbot-dialogflow. Accessed on 02 March 2021.
How is COVID-19 treated in people with CKD? Healthline Website. Available at: https://www.healthline.com/health/kidney-disease/chronic-kidney-disease-and-covid#treatment-of-covid-19. Accessed on 02 March 2021.