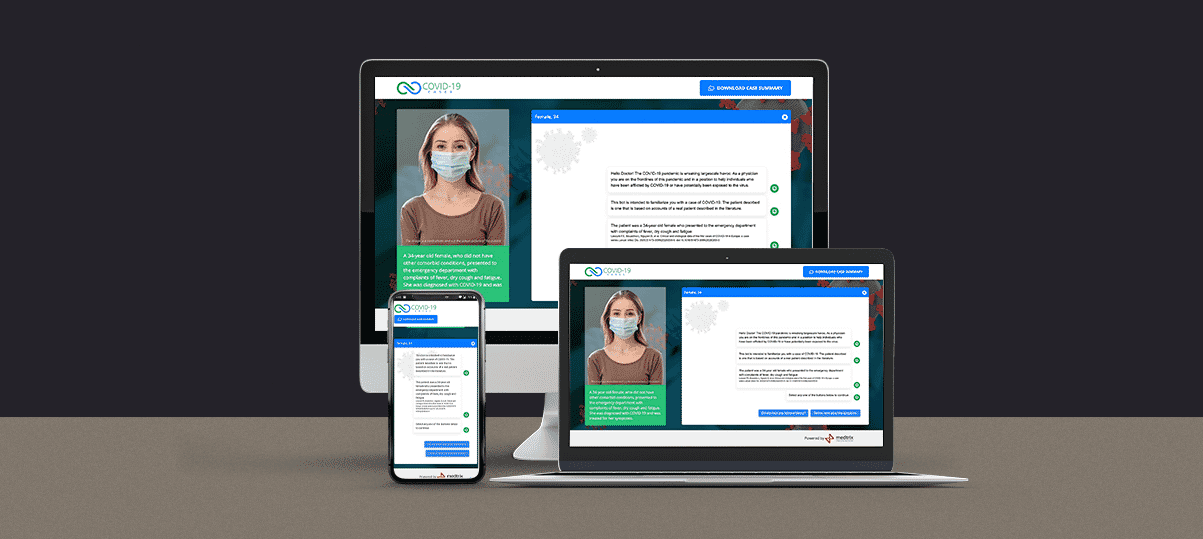 MedTrix Healthcare's unique offering - COVID-19 Cases - is a novel chatbot designed to help physicians and other healthcare professionals in the fight against COVID-19.
The COVID-19 Case Player is a fast, efficient, and easy-to-use chatbot that presents information regarding patients from peer-reviewed literature, who tested positive for SARS-CoV2, treated following WHO/CDC guidelines. It offers an in-depth analysis of a real case study, with detailed descriptions of symptom presentation, testing, treatment undertaken, and guidelines for prevention, protection for HCPs, and discharge criteria, from reputed sources.
Case studies allow the application of knowledge from research to daily clinical practice. While several avenues offer easy access to information related to COVID-19, many of these are not intended for HCPs, and very few show patients' vignettes. The Case Player presents real patient case studies along with the data from research and, in the process, connects research findings to real-world scenarios.
When all the necessary information is consolidated in one place, the need to frequently look up information via search engines is eliminated. Not only is the Case Player helpful in making quick decisions regarding patients displaying symptoms of COVID-19 or treating a patient who has recently tested positive for the novel coronavirus/SARS-CoV2, but physicians can also access important guidelines for diagnosis and treatment all in one place. It is this versatility and depth of information that makes the COVID-19 Case Player stand out in a world that is overwhelmingly data-driven/saturated with data on the novel coronavirus.
Easy to use and highly responsive chatbot that enables rapid decision making
It offers a plethora of information, with links to relevant guidelines and other data, on a single platform.
In-depth analysis of each case detailing all aspects to generate a composite, step-by-step guide to treating a patient
Case-based answers to relevant questions about COVID-19
Guidelines, and other information from relevant global authorities such as the WHO, CDC, MoHFW (India) and the ECDC (Europe)
Downloadable case summaries for offline access
With so many features under one roof, MedTrix Healthcare's COVID-19 Case Player empowers healthcare professionals, such that they can access case-related information quickly and treat a COVID-19 patient efficiently.