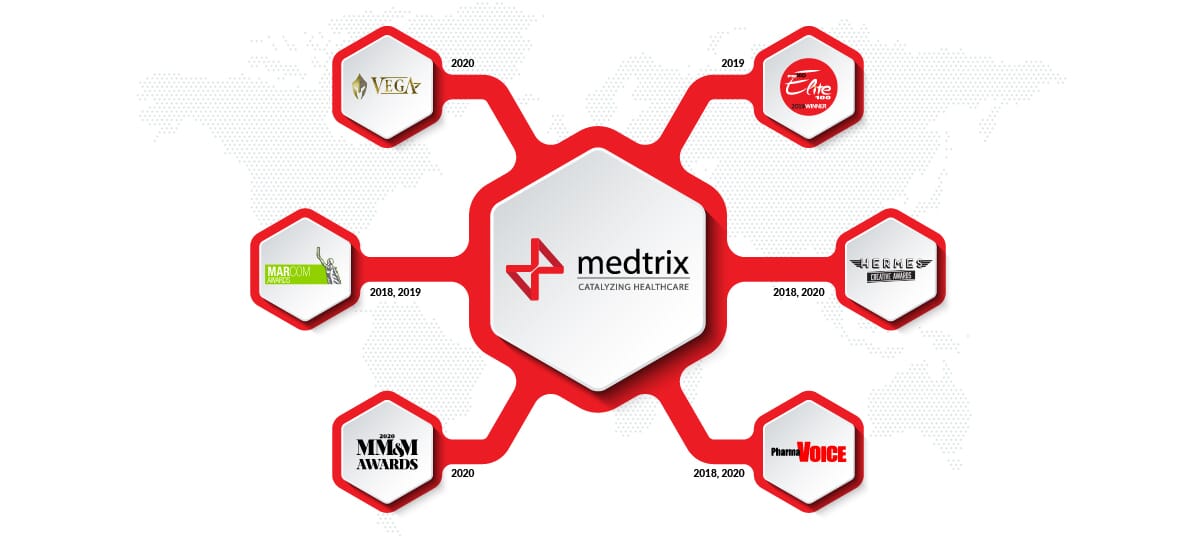 MedTrix is a new-age, medical technology service provider specialising in healthcare communications. Our team of highly qualified, medical writers & techno-creative individuals brings together years of experience in the health sector, offering full services to meet the commercial objectives of pharmaceutical and healthcare organisations across the globe.
With a significant track record of working in multiple therapy areas, collaborating with global key opinion leaders and using advanced digital technologies, our cutting-edge solutions are trendsetters in the pharma and healthcare industries.
We combine science, technology and strategy with our ISO-certified systems to accomplish specific business objectives for our clients who are top 20 pharma companies, deliver value to their customers- Health Care Professionals and Patients.
While we believe that there is no greater reward than a happy client, we are honoured to note that our solutions have been recognised by renowned agencies and organisations for their uniqueness and utility.
We are privileged that our unwavering commitment to excellence and high-quality solutions has received plaudits not only from the leaders in pharma, life sciences and healthcare, but also from illustrious marketing and communication agencies. Some stellar examples below:
MARCOM Awards: In 2018, we were awarded 2 Marcom Platinums for our VR- and AI-based projects with Novartis and a Gold Marcom for the Interactive Brand Response Wall created for Merck. In 2019, we received a Marcom Platinum for our customised Facial Anatomy App designed for Allergan and 2 Gold awards for our MoA video and digital app for oncologists, both created for Merck.
HERMES Creative Awards: In 2018, we were honoured with a Hermes Platinum for our MoA video for Allergan and 2 Gold awards for our VR-based Case Player for Novartis and E-learning modules for PTC Therapeutics.
VEGA Digital Awards: In 2020, we were felicitated with a Platinum award for a mobile application created for Merck and a Gold award for the VR 360˚ video designed for Bayer.
PharmaVOICE 100: Vimal Narayanan, founder and CEO – MedTrix Healthcare, has been included in the PharmaVOICE 100, a global list of changemakers and innovators in the life sciences industry, in 2018 and 2020.
PM360 Elite: Vimal Narayanan was recognised as an influential entrepreneur in the healthcare industry in 2019 by PM360 Elite, the eminent pharma marketers' resource.
Rx Club Award: We have been feted with Awards of Excellence in the Best Healthcare Professional Website and Best Animation categories from the Rx Club.
Pharma Choice: MedTrix and Novartis bagged the silver 2020 Pharma Choice Award for their interactive web-based augmented reality and chatbot app designed to support patients with polycythemia vera and myelofibrosis.
MedTrix as a finalist in MM&M Awards: We have been chosen as finalists in the Small Health care Agency – 2020 category in the prestigious MM&M awards.
Best Healthcare Brand 2021: MedTrix Healthcare has been recognised as one of the Best Healthcare Brands of 2021 by The Economic Times.